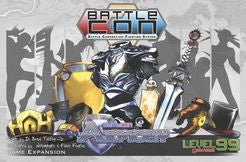 BattleCON: Armory
# of Players: 2-4 Players

Ages: 10+

Play Time: 15 Minutes

Designer: D. Brad Talton, Jr.
Publisher: Level 99 Games
Year:2015
Armory is an expansion to BattleCON War, Devastation, and Fate which allows you to create customized fighters using all sorts of enchanted gear, potions, and trinkets. It's perfect for players who want to test their skills at creating fighters on the fly.

140 different equipment cards (2 sets of 70 cards)
2 sets of Beta Bases, for varied play styles.
2 sets of Delta Bases, for even more construction opportunities!