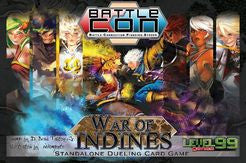 BattleCON: War of Indines -Remastered
$ 3750

$ 37.50

Save $ 12.50
---
---
# of Players: 1-5 Players

Ages: 10+

Play Time: 45 MInutes

Designer: D. Brad Talton, Jr.
Publisher: Level 99 Games
Year: 2013
Get Ready For the Fight of Your Life! BattleCON: War of Indines Remastered is a stand-alone, head-to-head dueling game unlike anything to come before. Choose your character from an impressive roster of dimensional knights, sinister vampires, sharpshooting mercenaries, time travelers, battle priestesses, elemental warriors, and more!! ! Every character can utilize up to 35 different moves in combat, and each brings a powerful new play mechanic to the table that completely changes the game and forces you to fight in different ways. Control time, alter your form, master the elements, trap your opponents, and rewrite reality itself to achieve victory! Eighteen characters to explore and challenge! Each character's unique tactics ensure that no two match ups are the same!