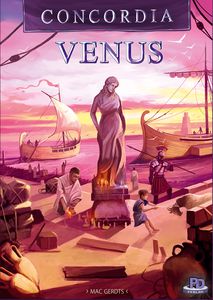 Concordia Venus: Expansion
# of Players: 2-6 Players

Ages: 12+
Play Time: 60-120 Minutes
Designer: Mac Gerdts
Publisher: Rio Grande Games
Year: 2019
This is an Expansion.  The base game is required to play.
The newest expansion to the hugely popular game, Concordia, Concordia: Venus, requires the base game to play. This expansion includes new personality cards, two new maps (Hellas and Ionium) and rules that enable teams of two players to play against one another.
Note: Concordia: Venus was also released as a standalone game. This expansion has Hellas/Ionium maps, but not Imperium (which is already in the base game) or Cyprus (which will be sold in an expansion in 2019). The standalone version includes more maps (Imperium/Cyprus in addition to Hellas/Ionium) than the expansion.