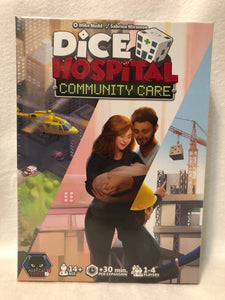 Dice Hospital: Community Care Expansion
$ 3295

$ 32.95

Save $ 12.04
---
---
# of Players: 1-4 Players

Ages: 10+
Play Time: 45-90 Minutes
Designer: Mike Nudd
Publisher: Alley Cat Games
Year: 2020
Three expansions to the smash hit 2018 worker placement game, Dice Hospital in one box.

Each expansion can be added to the base game or combined together for an epic Dice Hospital experience!

Contents:
The City Expansion - You'll collect patients from the city grid, earning bonus tokens for collecting sicker patients.  You might even get to use the helicopter!  
The Maternity Expansion - Mother dice (pink dice) and baby dice (little pick dice) will visit your hospital so you'll need to make sure your hospital is equipped to facilitate the miracle of childbirth.
The Investments Expansion - In this expansion, you'll upgrade your hospital to better treat your patients, giving you endless customisation options.  Create a new hospital every game!
Dice Hospital: Community Care Expansion on Boardgamegeek.com