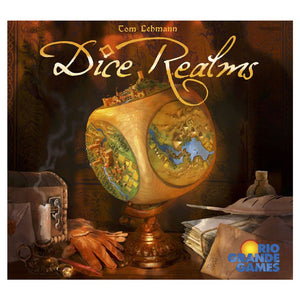 Dice Realms
# of Players: 2-4 Players

Ages: 14+
Play Time: 45-60 Minutes
Designer: Thomas Lehman
Publisher: Rio Grande Games
Year: 2022
 Your small realm is ripe for farming and mining, and those battlements should hold…for now. But winter is coming, and there are only so many hours in a day. So, where should you spend your limited time? Should you harvest wheat, collect ore or reinforce your defenses? The hand of fate is fickle, and only the player with the best foresight will triumph!
In Dice Realms, each player rules a small realm, represented by customizable dice, seeking both to improve and enlarge it.  
During play, players upgrade their dice by popping out their die faces and replacing them with more powerful faces. 
Players can buy more dice but, beware, winter is coming... you will need grain for every die you own.  Can you build the most prosperous and powerful realm?
Roll and find out!