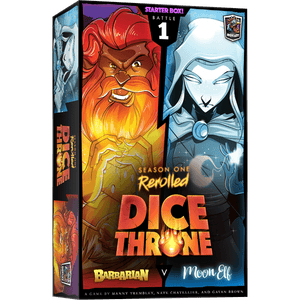 Dice Throne: Season One ReRolled - Barbarian vs Moon Elf
# of Players: 2-6 Players

Ages: 8+
Play Time: 20-40 Minutes
Designer:Nate Chatellier, Manny Trembly
Publisher:Mind Bottling Games
Year: 2020
Dice Throne Season One ReRolled is a remastered edition of Dice Throne: Season One.
Dice Throne is a game of intriguing dice, tactical card play, powerful heroes, and unique abilities.
The Barbarian isn't the most elegant hero around. He loves to smash things. He is known for hitting opponents so hard, they are left stunned and concussed. His endless barrage of heavy-hitting attacks shows that even the most simple fighting style can be deadly.
The Moon Elf draws her energy from the light of the moon. Her exploding arrows can pierce even the toughest of armor when loosed from her giant long bow. Her quick and nimble stature makes her extremely hard to hit, as she picks off her targeted foes from the vale of the forest.
Dice Throne: Season One ReRolled - Barbarian v. Moon Elf on Boardgamegeek.com