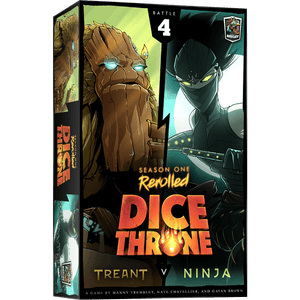 Dice Throne: Season One ReRolled - Treant vs Ninja
# of Players: 2-6 Players

Ages: 8+
Play Time: 20-40 Minutes
Designer: Nate Chatellier, Manny Trembly
Publisher: Roxley
Year: 2020
Dice Throne Season One ReRolled is a remastered edition of Dice Throne: Season One with two new characters: Treant and Ninja!
Dice Throne is a game of intriguing dice, tactical card play, powerful heroes, and unique abilities.
The Treant is the most elder of contenders.  He decided he could no longer be a stick in the mud weeping over willows.  He chose to branch out, packed his trunk, spruced himself up, and began lumbering ever closer to the true root of the problem - the Mad King.
The Ninja knows that victory is never truly certain, so she has spet countless hours to hone her craft.  As a master of Ninjutsu, she deals massive amounts of damage using unconventional methods, and when she's prepared, can dodge incoming attacks with more consistency than any other hero.
Dice Throne: Season One ReRolled - Treant vs Ninja on Boardgamegeek.com