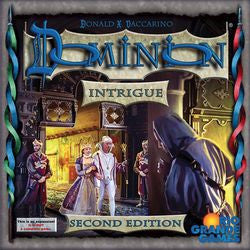 Dominion: Intrigue - Second Edition
# of Players: 2 - 4

Ages: 13 and up

Play Time: 30 minutes

Designer: Donal X. Vaccarino

Publisher: Rio Grande Games

Year: 2016
Dominion: Intrigue is an expansion set for the original Dominion by Rio Grande Games. In Dominion, you assume the role of a monarch who desperately wants to expand his empire. Unfortunately, you are not the only monarch with expansion on his mind and soon you are vying for fiefs, freeholds and feodums as you attempt to unit them under your banner. Dominion: Intrigue adds rules for playing with up to 8 players at two tables or for playing a single game with up to 6 players. This game adds 25 new Kingdom cards and a complete set of Treasure and Victory cards. The game can be played alone by players experienced with Dominion or with the basic game of Dominion.

In this new Second Edition, Rio Grande Games has removed 6 of the kingdom card sets from both the base game and Intrigue, and added 7 new card sets to each!

Additionally, the rulebook has been rewritten for more clarity! The Trash card in the base game has been updated to a cardboard Trash mat!
Dominion: Intrigue on Boardgamegeek.com