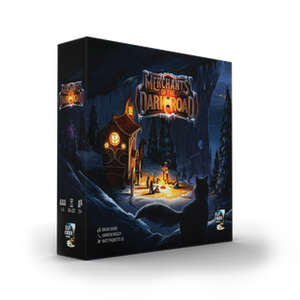 Merchants of the Dark Road
# of Players: 1-4 Players

Ages: 12+
Play Time: 60-120 Minutes
Designer: Brian Suhre
Publisher: Elf Creek Games
Year: 2022
On the frozen world of Lumi, life is possible only where the blazing quart thaws the ice.  
Here, where the dark of night lasts the whole winter long, there is work to be done. Even in darkness, merchants are needed to carry goods and travelers between the capital city,  Highreach, and smaller outlying towns.  A clever merchant always journeys with some of the intelligent animals of Lumi.
With the aid of these animal companions, and by the light of lanterns, there is money to be made from selling goods and prestige from difficult deliveries.  Whoever wants victory as a merchant must seek both. 
Merchants of the Dark Road uses a rondel-style action system that requires planning several steps ahead. Travel around in your wagon to buy and sell items, recruit heroes, and deliver your wares to the outlying cities of Lumi. Brave the dark roads and join your opponent's caravans with careful timing to become the richest and most prestigious merchant.