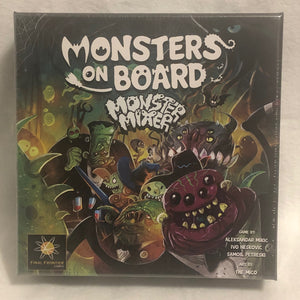 Monsters on Board: Monster Mixer Expansion
# of Players: 1-4 Payers

Ages: 12+
Play Time: 45-60 Minutes
Designer: Aleksander Mikic, Ivo Nesvokic, Samoil Petreski
Publisher: Final Frontier Games
Year: 2022
The time for the Blue Moon Mixer has come!

As the name suggests, this expansion is here to mix things up.
You can host a dinner party and cater to the demands of your monster guests. Or maybe enter a body-building contest as you assemble your very own abomination.
You can even uncover clues to prevent a murder and catch a would-be criminal before time runs out.  Or just maybe you can try to run and win the all-monster marathon.
Extend the life of the party with these four distinct modules that offer new ways to play and earn Spook Juice.