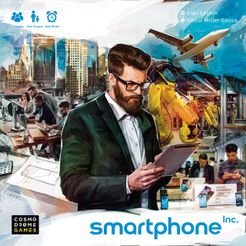 Smartphone, Inc
$ 4495

$ 44.95

Save $ 15.04
---
---
# of Players: 1-5 Players

Ages: 12+
Play Time: 60-90 Minutes
Designer: Ivan Lashin
Publisher: Cosmodrome Games
Year: 2020 (2nd Edition)
Come back to the time when smartphones were only beginning to conquer the world: it's your destiny to become the new CEO of one of the most promising smartphone design corporations.
This is your chance to be a top distributor in the digital economy.  If you're going to make your company the biggest in the world, you're going to need all your business savvy as you set prices for your products, streamline you production, develop new technologies, manufacture goods and handle logistics and sales.
Choose your strategy well and don't forget to keep your plans secret if you wan to win this race.  Other Companies want the same as you: to create the largest (and richest) smartphone company of all time.