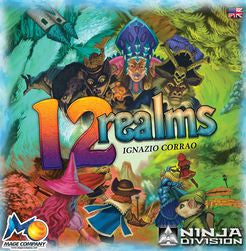 12 Realms
$ 5250

$ 52.50

Save $ 17.45
---
---
# of Players: 1-6 Players

Ages: 11+

Play Time: 90 Minutes

Designer: Ignazio Corrao
Publisher: Mage Company
Year: 2010
12 Realms is a fast and light-hearted cooperative game for 1 to 6 players. Playing as fantastical fairytale heroes, players must band together to stop the Lords of Darkness from pillaging the 12 Realms. Each hero is realized as a fun and characterful miniature game piece, while gorgeous fairytale art brings the unique monsters and Lords of Darkness to life. Travel through enchanted realms of myth and legend to battle the minions of the Lords of Darkness and reclaim powerful artifacts to stop their reign of terror once and for all!

In 12 Realms, heroes travel between the realms searching for ancient artifacts and combating the realm's unique monsters. Featuring cooperative play and an ever-escalating threat, every move must be carefully considered to build a viable strategy with other players to contain the ongoing invasion. Each realm features an invasion track; as the invasion accelerates more and more monsters invade the realm, eventually swallowing it in darkness!

12 Realms is the core game in an ever-growing line of popular expansions exploring new realms. The fairytale theme is strongly carried throughout the entire product with its beautiful realm maps, character illustrations, and sculpts. The cooperative gameplay makes 12 Realms an ideal family game where children, young and old, can become their favorite heroes and work together to save the day!