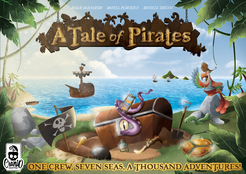 A Tale of Pirates
# of Players: 2-4 Players

Ages: 8+
Play Time: 30 Minutes
Designer: Asger Harding Granerud, Daniel Skjold Pedersen, Daniele Tascini
Publisher: Cranio Creations
Year: 2017
Put on your captain's hat and navigate the 3D pirate ship using sand timers in this unique real-time cooperative game.
As a member of an adventurous pirate crew, your goal is to be crowned Admiral of the Black, the most feared pirate ship in the Caribbean. To earn this title, you must complete dangerous scenarios in the shortest possible time frame. The most innovative element of the game is that the player uses their own 30-second sand timer as a character to be placed on the ship to perform actions. Each time a player places their own sand timer, they have to wait for the sand to run out to be able to perform the action needed. Each hole in the ship represents an area where you can perform a specific action: turning the ship, loading cannons, shooting enemy ships, repairing damage, and so forth...
A Tale of Pirates is swift playing with simple rules, but it's exciting and involving, with great interactions among players. Unlike some other real time coop games the stress is present but not dominating. The thirty-second delays, in addition to the intermittent rounds, always allow you to catch your breath!