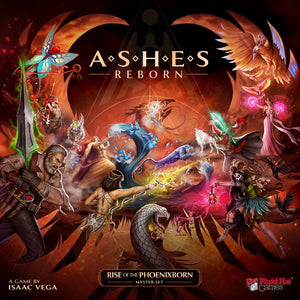 Ashes: Reborn - Rise of the Phoenixborn Core set
$ 3999

$ 39.99

Save $ 9.96
---
---
# of Players: 2-4 Players

Ages: 14+

Play Time: 30-120 minutes

Designer: Isaac Vega
Publisher: Plaid Hat Games
Year: 2021 (Second Edition)
Use imaginative cards and custom dice to summon faithful allies, combine powerful spells, and out wit your opponents in a fast paced back and forth barrage of well-crafted magic and strategic skill. With 247 cards and 40 dice included, this box alone contains billions of build options. Roll your dice and use their magic to cast powerful spells and creatures from the very beginning of the game. Unique back and forth gameplay! Allows players to choose targets carefully and consistently plan their strategy around opponents upcoming actions.
Ashes Reborn: Rise of the Phoenixborn
, released in 2021, features the same Phoenixborn as in the original 
Ashes
 with the same cards, but some cards have been modified to balance them. (Publisher Plaid Hat Games estimates that about 30% of all cards across all expansions are being modified.) The rules have undergone a few changes as well, mostly to clarify powers. The 
Ashes Reborn 1.5 Upgrade Kit
 contains more than 350+ updated 
Ashes
 cards, along with an updated rulebook, allowing players to move from the original game to the new 1.5 rules.
Ashes: Rise of the Phoenixborn on Boardgamegeek.com