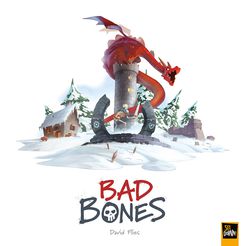 Bad Bones
$ 4795

$ 47.95

Save $ 12.04
---
---
# of Players: 1-6 Players

Ages: 8+
Play Time: 30-45 Minutes
Designer: David Flies
Publisher: Sit Down!
Year: 2020
Hordes of skeleton minions are invading your once peaceful kingdom. To resist them, you must fight. Protect the castle tower using traps, heroes, and fire-breathing dragons. Perhaps as a last resort, you can even send the evil skeletons to attack your neighbors!

Bad Bones is an automated real-time tower-defense game. It can be played in four different modes: Competitive, Cooperative, Advanced, and Solitaire mode. During the game, everyone plays simultaneously on each of their respective boards. Players must use planning, logic and foresight to lay traps, deploy heroes, distract skeletons, and protect their castle, in order to survive.

Each turn generates a new wave of skeletons, while players have limited options to place or repair their resources. As soon as one player loses their castle, the game ends. Whomever survived with the most points is declared the winner.
You can play with unlimited players by simply using more copies of the game!