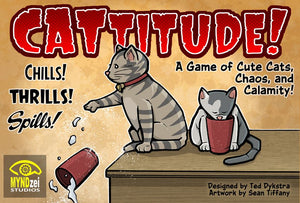 CATtitude!
# of Players: 3-4 Players

Ages: 12+
Play Time: 25-30 Minutes
Designer: Ted Dykstra
Publisher: Myndzei Studios
Year: 2020
 This playful game pits you and your friends against each other to see which cat can cause the most trouble by collecting cards and moving around the board to steal, knock over, and destroy various items throughout the house! But be careful, players will also get a chance to play as the human and try to catch casts in the middle of their devious acts! Use evade cards to frame others for your mischief or sneak away to safety, but whatever you do-- Don't Get Caught!