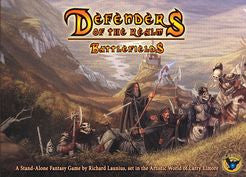 Defenders of the Realm: Battlefields
# of Players: 2 - 4 players

Ages: 13 and up

Play Time: 30 minutes

Designer: Sean Brown, Richard Launius
Publisher: Eagle-Gryphon Games
Year: 2012
Defenders of the Realm: Battlefields is set in the world of Richard Launius' Defenders of the Realm, but is a stand-alone, non-cooperative game in which players compete against one another either one-on-one, two-on-one, or two-on-two. One side represents the Dark Lord's invading army, while the other plays the heroes defending the realm.
Fourteen battlefield cards are included in the game, and three are laid out at random over which the sides will compete. Players take turns playing cards onto one of the battlefields in play in order to build up enough strength to claim that battlefield card. (Players hold seven cards with two players, five cards with four, and eight vs. four/four with three.)
Each battlefield card bears a special power that the winner of that card receives as a reward, such as "Remove all cards from one battlefield", "Choose the next battlefield to activate", and "Force the loser to give up one won battle".
The first team to claim any five battlefields or three battlefields of the same color wins, although rules are provided for shorter games.
  Defenders of the Realm: Battlefields on Boardgamegeek.com