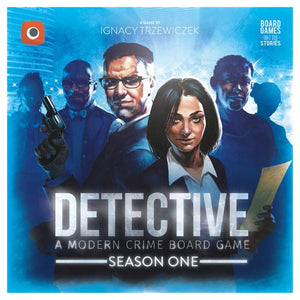 Detective: A Modern Crime Board Game - Season One
$ 2250

$ 22.50

Save $ 7.50
---
---
# of Players: 1-5 Players

Ages: 16+
Play Time: 120-180 Minutes
Designer: Przemyslaw Rymer, Ignacy Trzewiczek, Jakub Lapot
Publisher: Portal Games
Year: 2020
Detective: Season One is a fully cooperative, deeply immersive, board game in which 1 to 5 players take on the roles of investigators trying to solve a crime.

Detective: Season One is a new product in the award-winning Detective line. The game has a shorter playtime, is perfectly tailored for a mystery game night, and has simpler family-friendly rules. All at a lower MSRP than its predecessor in order to appeal to the mass audience. Detective: Season One consists of 3 stand-alone cases which can be played in around 90 minutes each. Each of the cases challenge players with different settings and case styles, inviting players to Richmond's Suburbs, the Virginia University campus, and to a manor house in the English countryside.

The base game of Detective has been published in 10 languages and sold in more than 120,000 copies worldwide. The game won more than 30 awards and nominations, including French Game of the Year, German Game of the Year, Dice Tower Best Theme, and four nominations for Golden Geek Award (Game of the Year, Best Cooperative, Best Innovative and Best Theme).
Detective: A Modern Crime Boardgame- Season One  on Boardgamegeek.com