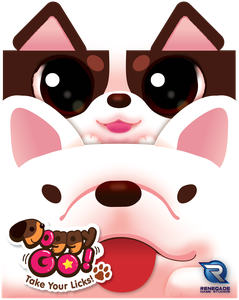 Doggy Go!
$ 1595

$ 15.95

Save $ 4.05
---
---
# of Players: 1-4 Players

Ages: 6+
Play Time: 15-30 Minutes
Designer: Aza Chen
Publisher: Renegade Games
Year: 2018
Doggy Acrobats are coming to town! The pooches are practicing so hard before the show, but unfortunately, their trainer fell ill! What should they do without their trusted teacher? How can they keep the practice going? Oh! Maybe you can be the new trainer and help them out! Come on! The Doggy show must go on! From the designer of Kitty Paw comes Doggy Go!, a family-friendly, dexterity puzzle game featuring seven different adorable dog breeds including Shiba Inus, Welsh Corgis, Poodles, Dachshunds, Taiwan Native Does, Schnauzers, and French Bulldogs.