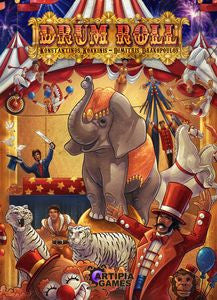 Drum Roll
$ 5250

$ 52.50

Save $ 17.45
---
---
# of Players: 2-4 Players

Ages: 12+

Play Time: 90 Minutes

Designer: Dimitris Drakopoulos, Konstantinos Kokkinis
Publisher: Golden EGG Games
Year: 2011
In Drum Roll each player takes over the role of a circus owner in the early 1900s. Each player moves around Europe hiring performers and giving shows.

There are five main categories of performers: the Tamers, the Acrobats, the Bizarre, the Magicians, and the Jugglers. Each of them have different demands the player must fulfill in order to give their best performance.

The requirements, which vary between performers, are Rehearsal, Equipment, Supplies, Costumes, and Promotion. There are three levels of performances that each performer can end up doing in a show: a poor one, a good one, and an outstanding one. The higher the level of performance, the more requirements each performer will have to fulfill in order to achieve it.