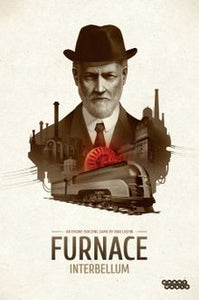 Furnace: Interbellum Expansion
$ 2495

$ 24.95

Save $ 8.04
---
---
# of Players: 2-4 Players

Ages: 12+
Play Time: 30-60 Minutes 
Designer: Ivan Lashin
Publisher: Arcade Wonders
Year: 2022
Welcome to the age of jazz and airships, streamliners and stock market crashes, electricity and the first skyscrapers!

Furnace is an engine-building Eurogame in which players take on the roles of capitalists building their industrial corporations and aspiring to make as much money as they can by purchasing companies, extracting resources, and processing them in the best combinations possible.

The first expansion brings the game into the 1920's and 1930's, the interwar period known as the Interbellum.
Requires Base Game: Furnace to play.