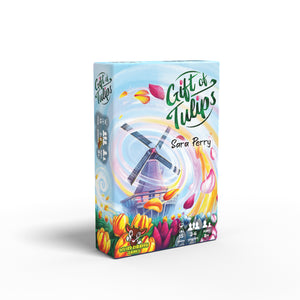 Gift of Tulips
$ 1699

$ 16.99

Save $ 2.01
---
---
# of Players: 2-6 Players

Ages: 8+
Play Time: 20 Minutes
Designer: Sara Perry
Publisher: Weird Giraffe Games
Year: 2022
 In Gift of Tulips, tulip enthusiasts explore Amsterdam's tulip festival to build colorful bouquets. Players can change the value of different tulips by playing into the Tulip Market, gain points by giving Tulips to other players, or build up their own Bouquet, which is scored at the end of the game.
Easy to Learn
Simple enough for kids to play and enjoy, with depth and strategy to keep hobby gamers interested.

Give to Win
You can only win the game if you give enough to other players, so you must do so strategically!

Hidden Showcase
The hidden showcase has a touch of press your luck as you might not see that tulip again, but if it does come out of the secret market, you'll know more about the end game conditions!