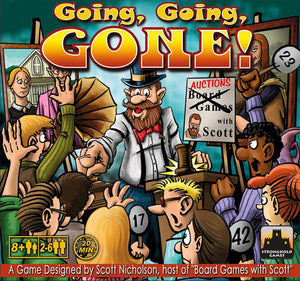 Going, Going, Gone!
$ 3750

$ 37.50

Save $ 12.45
---
---
# of Players: 2-6 Players

Ages: 8+

Play Time: 20 Minutes

Designer: Scott Nicholson
Publisher: Stronghold Games
Year: 2013
In Going, Going, GONE!, players will bid on 5 different auctions simultaneously and in real-time, attempting to build their item collections. These collections can be sold for "Bucks" throughout the game, which then provides the player with additional Bucks to bid in future auctions.