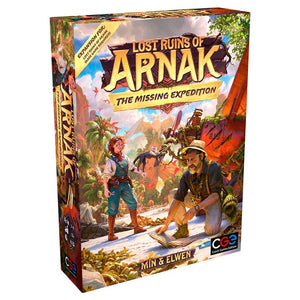 Lost Ruins of Arnak: Missing Expedition
# of Players: 1-4 Players

Ages: 12+
Play Time: 30-120 Minutes
Designer: Elwen, Min
Publisher: Czech Games Edition
Year: 2023
Follow a trail of The Missing Expedition and learn its fate in this new expansion for Lost Ruins of Arnak. Test the strategies offered by two new leaders. Explore new paths to knowledge on two new research tracks. Build your expedition team with new artifacts, items, and assistants. This expansion can simply be added to your Lost Ruins of Arnak base game or it can be discovered as part of a solo or two-player cooperative campaign.

Contents:
6-chapter Campaign (Solo Or 2-player Coop Mode)
2 Leaders (Mechanic & Journalist)
2 Research Tracks
Item & Artifact Cards, Sites, Guardians, Assistantson contains alternative research tracks that offer even more variety and a bigger challenge, along with new item and artifact cards to create new combos and synergies.

Lost Ruins of Arnak: Missing Expedition on Boardgamegeek.com