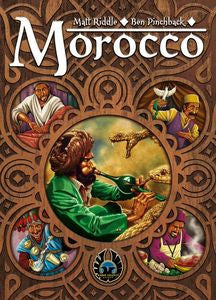 Morocco
# of Players: 2-5 Players

Ages: 12+
Play Time: 45 Minutes
Designer: Ben Pinchack, Matt Riddle
Publisher: Eagle-Gryphon Games
Year: 2016
 Morocco is a modern tile laying strategic board game that is easy to teach but has great depth and a classic feel. Morocco features a unique resource gathering mechanic, a strategic and interesting grid system and deep, emergent gameplay.

In Morocco, players are families of artisans carrying on the ancient traditions of the world famous Jemaa el-Fnaa market square in Marrakech. Each day, they work to claim the best locations across the market and attract customers to sample their wares or be enthralled by amazing spectacles. The ancient families of Snake Charmers, Water Sellers, Storytellers, Magicians, and Spice Merchants work hard vying for Customers.

Play with delight as you haggle, bribe, and strong-arm your way to the busiest spots with the most customers - but be wary of stampeding crowds. If you fall, no bodyguards will step in to save you! Don't be shy, experience all of the magic that Morocco has to offer! The player who generates the most victory points via the Market Tiles, Juice Seller Tokens and Largest Market District wins the game!