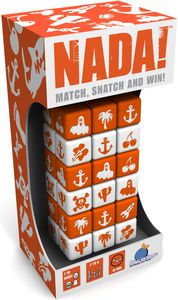 Nada!
# of Players: 2-4 Players

Ages: 7+
Play Time: 10 Minutes
Designer: Thierry Denoual
Publisher: Blue Orange Games
Year: 2013
There is always a match until…Nada! Scoop up the dice and let 'em roll. Quick—scan the array for matching symbols between the orange and white dice. The first to call a match collects all the dice showing that symbol. No matches? No problem! It's another chance to win. Shout "Nada!" to snatch up all the dice. But speak too soon and you'll pay the price. This dice game has 3 play variations. Think sharp and act fast to match, snatch, and win!