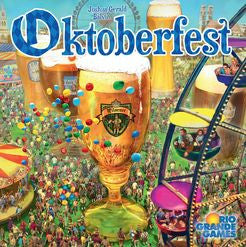 Oktoberfest
$ 3150

$ 31.50

Save $ 13.45
---
---
# of Players: 3-5 Players

Ages: 14+
Play Time: 90 Minutes
Designer: Joshua Gerald Balvin
Publisher: Rio grande Games
Year: 2017
Welcome, brewmasters, to the world renowned Bavarian festival known as Oktoberfest!

The 1810 wedding celebration of Crown Prince Ludwig I and Princess Therese of Saxe-Hildburghausen swiftly became an annual tradition known as Oktoberfest. Each year the scope of the festival expanded, and by the late 1800s sponsored beer halls and competing breweries were in full operation.

In the game Oktoberfest, players act as artisanal brewmasters seeking to supply the world's largest beer festival with the most popular lagers available. Over the course of the last day of the festival, players bid to supply their special brew to various tents.

Points are awarded to the players who supply the most barrels of a specific type to each tent. As the festival comes to an end, the player with the most points wins!