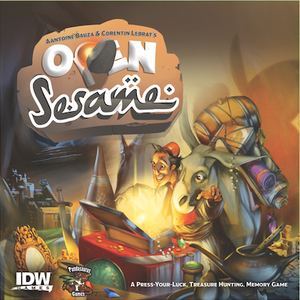 Open Sesame
$ 1750

$ 17.50

Save $ 2.45
---
---
# of Players: 3-5 Players

Ages: 8+

Play Time: 15-20 Minutes

Designer: Antoine Bauza, Corentin Lebrat
Publisher: IDW Games
Year: 2012
Welcome to Open Sesame: a press-your-luck card game of high-stakes memorization and deduction by world-renowned game designer, Antoine Bauza (7 Wonders, Takenoko, Rampage).

Players take turns alternating between the role of Ali Baba or one of the thieves guarding the Cave of Treasures—either stealing treasure or cataloguing and policing each item nabbed.

This gorgeous game is light-hearted fun and perfect for treasure hunters of all ages!