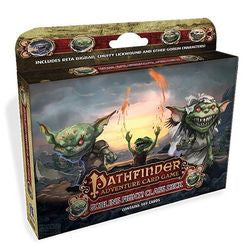 Pathfinder Adventure Card Game: Class Deck - Goblins Fight!
# of Players: 1-6 Players

Ages: 13+

Play Time: 90 Minutes

Designer: Chad Brown, Tanis O'Connor, Paul Peterson, Keith Richmond
Publisher: Paizo Publishing
Year: 2016
BURN, BURN, BURN! Not content to cut and fight, these goblins are ready to set fire to your gaming table in the new Goblins Burn! Class Deck. Poog of Zarongel and his friends are paired with enough spells, bombs, and (even more) lucky pet toads to singe, char, and gobble your way through any Pathfinder Adventure Card Game Base Set with this 109-card accessory deck. This deck can also be used in the popular Pathfinder Society Adventure Card Guild organized play campaign.
Pathfinder ACG: Class Deck - Goblins Burn! on Boardgamegeek.com