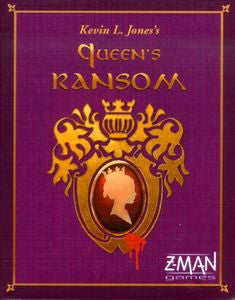 Queen's Ransom
# of Players: 2-5
Ages: 10 and up

Play Time: 20 Minutes
Designer: Kevin L. Jones
Publisher: Z-Man Games
Year: 2010
From Z-Man's page:
The queen has been captured and is held for ransom!
You and your friends are detectives enlisted by the king. Who will be the first to determine who captured her and where she is being held captive.
A fun deductive-type game.
Queen's Ransom is a deduction card game for 2-5 players. The players are inspectors enlisted by the king to investigate the Queen's kidnapping (the king can't afford the ransom!)
The first player to find out who captured the queen and where she is being held wins the game. A player may buy information cards using money cards, or use special cards.
Contents: 90 cards, rules
Queen's Ransom on Boardgamegeek.com