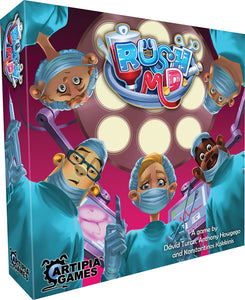 Rush M.D.
$ 4795

$ 47.95

Save $ 12.04
---
---
# of Players: 1-4 Players

Ages: 14+
Play Time: 30-45 Minutes
Designer: Anthony Howgego, Konstantinos Kokkinis, David Turczi
Publisher: Artipia
Year: 2020
You are one of the doctors that were just hired for the brand-new, cutting-edge Medical Center. Alongside your colleagues, you have to cooperate well, to admit, diagnose and treat various patients who need your help. Combine your strengths and treat efficiently the patients arriving at hospital, but be careful, because mistakes can be of the highest value in Rush MD!
The game plays from 1-4 players and lasts for 4 rounds of 4 minutes each. That means you only have 16 minutes in total to treat various patients, overcome many difficulties and challenges and manage to cooperate efficiently with your teammates, combine your forces into helping as many of your patients. A highly thematic experience that is equally rewarding for gamers and families, filled with fun, challenges and sharp decision making!
In Rush M.D. pressure is high as human lives are upon your hands! Can you handle the Rush, doctors?!