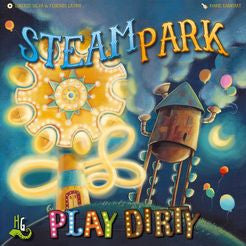 Steam Park: Play Dirty
# of Players: 2-4 Players

Ages: 8+

Play Time: 90 Minutes

Designer: Aureliano Buonfino, Lorenzo Silva, Lorenzo Tucci Sorrentino
Publisher: Iello
Year: 2016
Steam Park: Play Dirty is an expansion for Steam Park. The modularity of this expansion allows you to introduce many different new features one at a time. It allows now up to 5 players to enjoy the experience of creating an Amusement Park.

The new Stands provide the players with additional powers that allow for more diverse strategies to become the richest robot in town. 6 new Characters that offer players help in order to build their Amusement Park, every new game of Steam Park will be different and unique.

Steam Park: Play Dirty introduces the scary Espionage Dice, that allow players to copy the other players' actions, but at a cost! The new Rides expand the old ones, making them more profitable, but at a price!