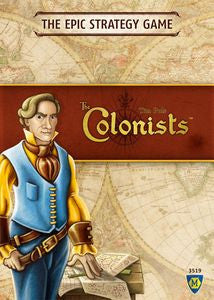 The Colonists
# of Players: 1-4 Players

Ages: 12+
Play Time: 30-360 Minutes
Designer: Tim Puls
Publisher: Lookout Games, Mayfair Games
Year: 2016
Description from the publisher:
In The Colonists, a.k.a. Die Kolonisten, each player is a mayor of a village and must develop their environment to gain room for new farmers, craftsmen, and citizens. The main goal of the game is full employment, so players must create new jobs, educate the people, and build new houses to increase their population. But resources are limited, and their storage leads to problems that players must deal with, while also not forgetting to upgrade their buildings. Players select actions by moving their mayor on a central board.
The Colonists is designed in different levels and scenarios, and even includes something akin to a tutorial, with the playing time varying between 30 minutes (for beginners) and 180 minutes (experts).