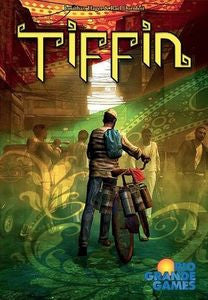 Tiffin
# of Players: 2-4 Players

Ages: 14+

Play Time: 30-60 Minutes

Designer: Rael Dornfest, Jonatahn Hager
Publisher: Rio Grande
Year: 2016
Every day in Mumbai, the bustling financial capital of India, hot lunches are hand-delivered to employees in workplaces across the city. These home-cooked meals, packed in tins called tiffins or dabbas, are picked up from the customer's home, whisked off by bicycle to a sorting facility, loaded onto carts and wheeled to the train station, loaded onto a train car, unloaded, resorted, routed, and delivered (again, by bicycle) to recipients at work. Each tiffin is carried by multiple dabbawallas (delivery people) along the way. Despite more than 250,000 lunch deliveries every day, mistakes are rare.

Players represent dabbawallas working to deliver tiffins and earn rupees by starting tiffins on a route and contributing to successful delivery of their tiffins and those of other players. The more tiffins delivered on a single route, the higher the payout for each player participating in the deliveries.

Shortcuts speed things up, flat tires slow things down, and an ever-present competitor might get there first. The game ends when all delivery routes are complete and the player with the most rupees is the winner.