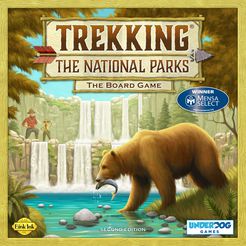 Trekking the National Parks - Second Edition
# of Players: 2-6 Players

Ages: 8+
Play Time: 30-60 Minutes
Designer: Charlie Bink
Publisher: Underdog Games
Year: 2014
 Trekking the National Parks Sale!
  Use code "Trekking" at checkout to get 20% off!
Trekking the National Parks was the winner of the 2015 Mensa Select Award!
Trekking the National Parks is an award winning family board game where up to six players can visit our country's majestic parks in a fun and competitive way! Gathering trek cards allows players to move across the map and claim valuable park cards. If a player is the first to visit a National Park, they collect that park's stone, which award bonus points at the end of the game. Players must jockey for position and make tough tactical decisions at every turn to emerge victorious!
The second edition of Trekking the National Parks features a more accessible rulebook, simplified movement rules to create a more streamlined play experience, new Major Park locations and wooden campsites that award special abilities to players, and a change to stone majority bonus points, with both the first- and second-place players now receiving points.
Trekking the National Parks - Second Edition on Boardgamegeek.com