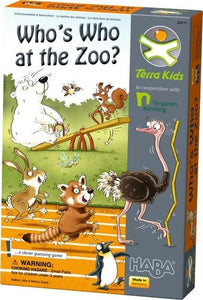 Who's Who at the Zoo?
# of Players: 3-5

Ages: 6+

Play Time: 20 minutes

Designer: Inka and Markus Brand
Publisher: Haba
Year: 2013
As speedy as a snail and as heavy as a bear — hmm, which is slower and which weighs more? As clever animal detectives who are always tracking down different animals, players in Who's Who at the Zoo? have to answer questions like these and many others! At the three check stops, they receive valuable hints as to the animals' speed, size and weight. Whoever draws the right conclusions from the hints given can win the game. With this game, all players can broaden their animal knowledge in a fun way.
Who's Who at the Zoo? on Boardgamegeek.com