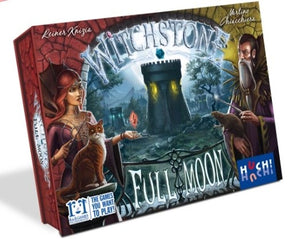 Witchstone: Full Moon Expansion
# of Players: 2-4 Players

Ages: 12+
Play Time: 60-90 Minutes
Designer: Martina Chiacherria, Reiner Knizia
Publisher: R&R Games
Year: 2021
Another hundred years went by...
But this time, the gathering of the Witches and Wizards is influenced by the Full Moon, and its rays magnify the magi powers many times over.  
This expansion contains 4 towers and 4 Grandmaster figures, plus 2 modules with special abilities and new hex tiles.  These make the base game even more varied and thrilling!  You can combine them with the basic game of Witchstone in any way you want.