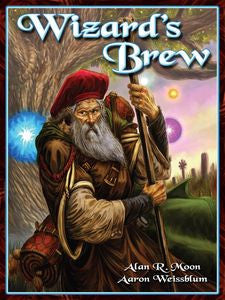 Wizard's Brew
$ 4196

$ 41.96

Save $ 17.99
---
---
# of Players: 3-6

Ages: 13+

Play Time: 75 minutes

Designer: Alan Moon
Publisher: Eagle/Gryphon Games
Year: 2013
Wizard's Brew is a reimplementation of the Spiel des Jahres-nominated Das Amulett. Players are wizards who use their energy to power spells and collect ingredients from the game board. Collect the right combination of ingredients – which varies depending on the number of players – and you win!
Spell cards are the heart and soul of the game. You get two random spells at the start of each game, then can acquire more via short, "once around" auctions at the start of each round. You bid energy cubes in these auctions, and you have only ten, so bid wisely. When you win an auction, you place energy cubes equal to your bid on the spell card. A certain number of these cubes are removed from the card at the end of each round; once the final cube is removed, the spell leaves the game and you lose that power.
Spell cards generate the Element cards depicted on them for their owners. You then use these Element cards to bid on and collect Ingredients. You can bid for Ingredients only with the Elements shown on the landmark tokens on areas of the game board; these tokens are placed randomly each game. To increase the strategy and player interactivity, some Spell cards let you bid extra cards or different cards, while others allow you to change the rules for bidding. After visiting 3-6 areas, with the number being determined by a die roll at the start of the round, the round ends and players remove Energy cubes from their spells.
The game ends as soon as a player collects the required number of ingredients, e.g., in a six-player game, five differently colored ingredients or six ingredients in any combination of colors.
Wizard's Brew on Boardgamegeek.com