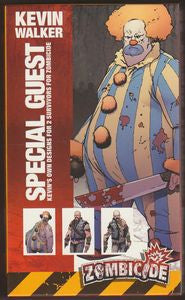 Zombicide - Special Guest Box 1 - Kevin Walker
$ 2125

$ 21.25

Save $ 3.70
---
---
# of Players:

Ages:

Play Time:

Designer: Raphael Guiton, Jean-Baptiste Lullien, Nicolas Raoult
Publisher: Cool Mini or Not
Year:
This expansion includes two survivors and their Zombivor counterparts both designed by Kevin Walker.
Kevin Walker went freelance in 1987 and spent years illustrating for British comic 2000 AD and Games Workshop. There followed years of comics, both writing and illustrating, with a wide variety of media, before becoming a father and realizing it was time to get some work done. Illustrations for the Magic: The Gathering trading card game, several computer game projects and comic work followed, working for 2000AD, DC Comics, Dark Horse and Marvel. Working on Thunderbolts actually attracted some attention. He's now the regular penciller and inker on Avengers Arena for Marvel Comics.
In recent years he has worked on cover art for titles such as Young Bond, Artemis Fowl, Changeling and Vampirates. He is currently working mostly for Marvel Comics from his home in Yorkshire, England.
The two survivors include:
Uncle Honk
Little is known about Uncle Honk, as he likes to call himself. Most people think that he used to work in a circus. Some mutter that, more likely, he was a patient in a psychiatric hospital. What everyone knows for sure, however, is Uncle Honk is a brute with a taste for the circus world and zombicide. If he likes you, you can rely on him and all his formidable might. He'll expect the same in return, of course. Uncle Honk likes to taunt zombies every once in a while, to get in a "funny" during a fight. With his blood-chilling laugh, Uncle Honk is both your best friend and your worst nightmare.
Butch
After graduation, Butch held down a deadend job for a while before embracing the biker life. For him, it wasn't really about the one percenter life, but more about getting some freedom of choice, a little room to breath in a constricted world. Better to die young with stories to tell than as a senile fool in a gloomy hospital, right? Living on the edge taught Butch a useful trick or two that let him survive when the zombies invaded. Absolute freedom is now at hand, and despite all the slaughter, life is good....
Zombicide: Special Guest Box 1 - Kevin Walker on Boardgamegeek.com