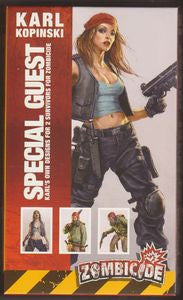 Zombicide - Special Guest Box 3 - Karl Kopinski
$ 2125

$ 21.25

Save $ 3.70
---
---
# of Players: 1-6 Players

Ages: 13+

Play Time: 60 Minutes

Designer: Raphael Guiton, Jean-Baptiste Lullien, Nicolas Raoult
Publisher: Cool Mini or Not
Year: 2012
Karl Kopinski was born in Nottingham in 1971, drawing became an obsession from an early age. After studying fine art at university he picked up his first freelance work with Games Workshop's publishing house Black Library, which quickly led to a position in the main GW art department where he worked for 7 years, looking for new challenges he returned to freelance work around 5 years ago. He is currently still based in Nottingham and now works in a wide variety of fields and media including book illustration, concept design for the games industry, military history paintings and portraiture, and of course the legendary Magic: the Gathering cards!!

The two survivors include:

Angry Mary

Mary used to lead a peaceful life in retail, with a husband (cop), two kids and a house with a white picket fence. Then the zombies came and took it all. Returning home to an (almost) empty house one day, she narrowly escaped becoming zombie chow by dispatching the untidy interlopers of her lovely home. Something snapped, and the wild energy of her misspent youth came roaring back. Mary emptied her husband's gun safe and turned into an urban warrior. She does seem to have a special grudge against zombies though and never passes up a chance to kill them.

Red Cap Ben

As a young boy, Ben was strongly influenced by the Cold War and the fashion for survival that abounded from the 60's to the 80's. He went from job to job, knowing the inevitable would happen and preparing for it. He didn't really expect zombies to show up, though, and still suspects it might be a government conspiracy. Nowadays, Ben is best known as "the red cap", a hardcore survivalist with numerous successes on what seemed impossible missions. As grumpy as he acts, Ben likes the nickname.